Test rig for road surface installed in Biel
19.09.2022 To improve the lifespan of foot and cycle path bridges, parking zones or terraces made of wood-based materials, researchers at BHF's School of Architecture, Wood and Civil Engineering BFH-AHB have developed an innovative polyurea-based liquid plastic coating. They are now testing it using a special rig in Biel.
Anyone parking their car at BFH-AHB on Solothurnstrasse in Biel will be part of a research project in future. Researchers have installed a test rig at the car park barrier which they are using to test an innovative surface coating for roads and pavements made of wood-based materials. This project involves collaboration between the Institute for Materials and Wood Technology IWH and the Institute for Timber Construction, Structures and Architecture IHTA.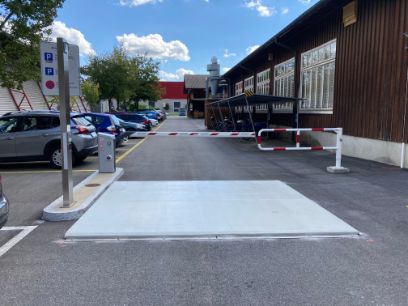 Liquid plastic has many benefits
The protective surface is a coating using a polyurea-based liquid plastic system. It has a low installation height (a few mm) which can consist of up to four layers, depending on the application. This means it has a low surface mass of around 4.5kg/m2. By comparison, asphalt coatings have a thickness of at least 6cm and a surface mass of around 140kg/m2. Using a liquid plastic system reduces the overall mass which is a major benefit, particularly in renovation projects – such as older bridges.
Another key benefit of polyurea-based liquid plastic systems is their low processing temperature of 60 to 70°C compared with asphalt surfaces (200 to 220°C). This means the wooden substrate heats up less, reducing the formation of water vapour. As a result, fewer gas bubbles are produced during application in the boundary layer between the coating and substrate, reducing the risk of biological infestation and ensuring good adhesion between plastic and wood.