Welcome Week - Autumn Semester 2020
10.09.2020 The International Office team had the great pleasure welcoming 8 incoming exchange students and 10 Double Degree students from Belgium, Netherlands, Sweden, South Korea, Mexico, Finland and Neuchatel. We have 14 Buddies supporting our international students with living and studying in Bern.
The students started their Welcome Week on Monday, 7 September 2020 with an information session where they were provided with necessary information for an optimal start to their study life at BFH Business School. Tuesday the students had the opportunity to get creative with three challenges, with the main objective to be creative, working in a group dynamic under time pressure and get to know each other as a family. All teams displayed outstanding creativity. The team "BlueChiefs" with Alessandra Fernandes Alves, Maria Ramírez Garduño, Michel Aebi, Jacob Jönnson and Hwain Choi won this semester welcome challenge, applying all three objectives in spectacular form!
If you like to see more of our activities, please follow us on Instagram: bfh_business_international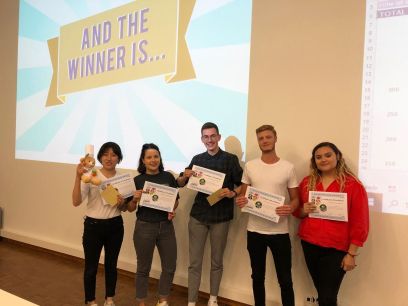 Subject area: International, University of applied sciences
Category: International, University of applied sciences