Summer School Mont-Soleil
09. - 14. August 2021
Bern University of Applied Sciences organizes in collaboration with Société Mont-Soleil and the École Polytechnique Fédérale de Lausanne the PhD Summer School Mont-Soleil from 09. – 14.8.2021 in Switzerland. The topic of the PhD Summer School is "Field-Based Insights into the Implementation of Renewable Energies".
09.08.2021 bis 14.08.2021 – Bern, Mont-Soleil, Nidau, (Grindelwald and Jungfraujoch)
Steckbrief
Startdatum

09.08.2021

Enddatum

14.08.2021

Ort

Bern, Mont-Soleil, Nidau, (Grindelwald and Jungfraujoch)

Anmeldefrist

30.06.2021

Status

Only PhD and Master students will be admitted.
Programm 2021
The course will take place at University of Bern, in the Mont-Soleil region and at the BFH Energy Storage Research Centre. The optional post conference program will take participants to Grindelwald and the Jungfraujoch for a visit to the High Altitude Research Lab. We invite 24 excellent PhD and advanced master students from all over Europe to participate.

The summer PhD school will be held on Mont-Soleil above the city of Saint-Imier in the Western part of Switzerland. Production, distribution and application of renewable energies can be shown in a directly perceptible way since all adequate facilities are concentrated on and around Mont-Soleil in a unique manner. Lectures and workshops will take place in the visitor center, with top experts from internationally renowned universities as well as from industries in the field of renewable energies. Hotel accommodation will be organized in a unique mountain hotel on Mont-Soleil.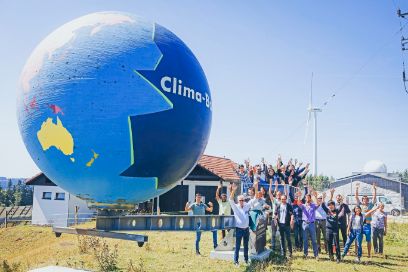 | | |
| --- | --- |
| 09.08.21 | Check-in at University of Bern. Climate and Environmental Physics |
| 10.08.21 | Photovoltaics and Hydropower, Mont-Soleil |
| 11.08.21 | Wind Energy, Mont-Soleil |
| 12.08.21 | Energy Storage and Advanced PV Technologies |
| 13.08.21 | Electrical Grid Integration |
| 13.08.21 | Transfer to Grindelwald |
| 14.08.21 | High Altitude Research Centre Jungfraujoch |
Dr. Martin Pfisterer, Co-chairman / President Société Mont-Soleil, Switzerland
Prof. hon. Alfred Rufer, Co-chairman / EPFL, Lausanne, Switzerland
Prof. Thomas Stocker, University of Bern, Switzerland
Dr. Rudolf Minder, Société Mont-Soleil, Switzerland
Dr. Jakob Vollenweider, Société Mont-Soleil, Switzerland
Thomas Schott, Bern University of Applied Sciences, Burgdorf, Switzerland
Christian Ochsenbein, technical engineer and member of the boat crew
Aline Coulot, Swiss Small Hydro Association
Andreas Stettler, Head of Hydroelectric Power Plants, BKW
Cédric Zbinden, CEO La Goule SA
Dr. Mathieu Boccard, CSEM / EPFL, Neuchâtel, Switzerland
Sara Koller, Meteotest, Bern, Switzerland
Dr. Jiannong Fang, Wind Engineering and Renewable Energy Lab, EPFL, Switzerland
Dr. Ndaona Chokani, Laboratory for Energy Conversions, ETH Zurich
Dr. Priscilla Caliandro, Berne Universtiy of Applied Sciences, Biel/Bienne
Dr. Laure-Emmanuelle Perret, EPFL/Compàz, Neuchâtel
Beat Guggisberg, Head of global engineering, ABB Switzerland Transportation
Prof. Mario Paolone, Distributed Electric Systems Lab, EPFL, Lausanne, Switzerland
Prof. Drazen Dujic, Power Electronics Laboratory, EPFL, Lausanne, Switzerland
Prof. Michael Höckel, Power Systems Lab, Biel/Bienne, Switzerland
Cédric Spielhofer, CEO Fromageries Spielhofer, Saint-Imier, Switzerland
Dr. Andreas Hutter, PV-Center, CSEM, Neuchâtel, Switzerland
Prof. Andrea Vezzini, Bern University of Applied Sciences, Biel/Bienne, Switzerland
Prof. Markus Leuenberger, President, University of Berne, Switzerland