BFH-HAFL alumnus working to improve adoption of agroecology in Nicaragua, shares tips on starting a career in development cooperation
09.12.2021 Ludovic Schorno, a BFH-HAFL International Agriculture graduate, is working with COMUNDO, the leading Swiss organization in the field of personnel development cooperation. He met with us to share his story and talk about his current role supporting a local organisation in Nicaragua in increasing the adoption of agroecology in Matagalpa.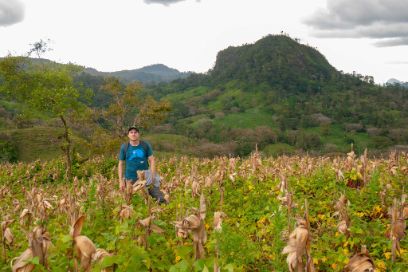 How did you get started with your career in COMUNDO?
While studying at BFH-HAFL I was already interested in international cooperation, and we had heard about COMUNDO during classes. I then met with the COMUNDO recruitment team at the BFH-HAFL Career Day and at the CINFO Forum. It all led me to apply for a job, and the adventure began! I received the job offer even before I had the chance to graduate.
At first, I had some reservations about going to Nicaragua, but reading about the projects and the work of the partner organisation convinced me to go ahead. When I arrived, I also discovered that a lot of the restrictions I had read about online, like an imposed government curfew, did not apply to everyday life.
What do you like most about the job?
I like working in the field and the contact I get with the local farmers. Compared to working on a farm in Switzerland, the first difference is the weather. It's great year-round in Nicaragua! The other difference is that where I work, most processes are not mechanized, so everything gets done by hand.
What was most difficult about starting on the job?
In the beginning the onboarding was very slow. The first few weeks the team let me get acclimatized to the new setting and the city. After that, for two months I was sent out into the field to experience all four locations within the Matagalpa department where the organisation is active. My role was mainly to observe the technical teams. This was very different from my experience in Switzerland, where new staff are put to work from day one. I had a tough time aligning what I thought was expected from me with what I was assigned to do during this onboarding phase.
I now realize that it was actually a great way to get started. This way I had a chance to explore how the operation runs, to learn about the daily life and integrate well into the team. I also had an advantage in that I already spoke Spanish when I arrived. I spent a year on an exchange programme in Mexico in 2009-10, before starting university.
Anything that you didn't expect during your time in Nicaragua?
As students at BFH-HAFL we mostly focused on participatory methods, and that's what I expected. On the ground I saw that the donors influence to a large extent the design of the project, which doesn't always reflect the needs of the field. The objectives of the projects are often defined by the Global North and in my view, it would be better if small local organisations had the freedom to design their own programmes. Additionally, the organisation I work with, ADDAC, has a series of donors from different countries, and each country has different requirements for reporting and monitoring & evaluation. Even adjusting all the reports to meet the donor criteria makes the process quite heavy.
Why did you choose agroecology?
I started studying Agriculture because I thought that producing food would be more important than making money in the future. At the same time the topic of "healthy food" attracted me. At the beginning, it meant focusing on organic. I was also reading about permaculture and vegan farming. It all led me in the direction of a holistic approach and agroecology. Agroecology is more sustainable than organic agriculture. It includes the social aspect between farmers and the rest of society, while organic is more focused on production and transformation, in my view.
Advice to future BFH-HAFL graduates
It's getting harder now to get a job abroad, but I would still encourage students to apply. Even if the conditions don't look as appealing compared to what they can find in Switzerland, and they might not want a long-term career abroad, I would still encourage them to try it out. This type of experience is highly valued on the Swiss job market if they do decide to return.
I feel that the International Agriculture specialisation programme prepares us well for jobs in the Global South. The field assignment IA students do during the sixth semester also helps in getting started with working in these contexts. My assignment was in Thailand with GIZ. It made me aware of which continent I wanted to work on and gave me a general understanding of what development cooperation looks like.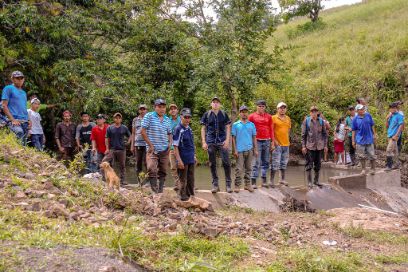 Find out more
Category: Research, Studies