Range of services
The BFH Centre for Social Security brings together a unique combination of expert knowledge from a wide range of different disciplines. We carry out specialist research into socially relevant subjects in the field of social security and we encourage dialogue and exchange between academics and professionals in the field.

Research + Development
Our researchers have backgrounds in sociology, political science, economics, social work, nursing science, gerontology, teaching, psychology, business management, cultural studies, media studies, communication studies, law, ethics and philosophy.
Our tailored research designs include:
Evaluation of large-scale administrative databases for the purposes of analysing complex connections over relatively long periods of time and delivering statistical modelling
Mixed-method designs to combine qualitative and quantitative methods
Evaluations of the impact of a political or organisational measure and its intended and unwanted effects
Cost-benefit analyses to measure monetary, quantifiable and non-tangible costs and benefits
Comparative analyses to investigate the effects of contextual factors and regulations
Action research to deliver a solution to specific practical problems in partnership with those affected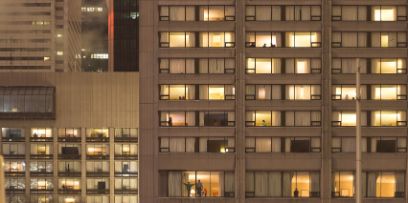 Consulting services
Our staff can provide you with a wide range of consulting services. We put together the perfect team and outline the ideal concepts and methods, based on the latest standards of empirical social research:
Analyses, consultations and evaluations
Concept development and implementation, project management
Chairing and organisation of workshops and events
Knowledge sharing and networking
'knoten & maschen'
Our blog is aimed at the general public and examines the subject of social security from the different perspectives of health, social work, business and gerontology. The blog regularly presents research findings, theses and discussions – in interactive, multimedia format.
'Social Impact'
Our policy brief appears every six months and contains scientifically based information and recommended actions for decision-makers in public administration and politics.
Conferences
Our Centre holds two or three national and international conferences a year:
National Conference on Health & Poverty
International Conference on Discrimination in the Labor Market
International Conference 'Countering Staff Shortage Among Health Professions'
Conference on child welfare 'Arbeit am Kindeswohl: Schützen, Klären, Kooperieren'
Social Innovation round table | Focus #1: Ageing Society
Colloquium
Our biannual research colloquium is designed to promote knowledge sharing and encourage networking between our experts in the participating research units and select practice partners.