BFH-HAFL team takes a close look at the impact of the Russo-Ukrainian war on forestry in Ukraine
27.09.2022 HAFL Hugo P. Cecchini Institute team met with Prof Sergiy Zibtsev from National University of Life and Environmental Sciences of Ukraine to discuss the current needs of the Ukrainian forest sector and the research needs for reducing the impact of the war on the forest ecosystem (and on society at large).
The meeting was chaired by Professor Bernhard Pauli, Head of the BFH-HAFL Forestry Department, and provided an opportunity for a transdisciplinary team of BFH-HAFL experts to take a closer look at forestry in Ukraine.
Professor Zibtsev presented an overview of the current state of forests and forest management challenges in Ukraine due to the Russian war in the country. A special focus of his presentation was on the increasing number of forest fires, a problem exacerbated by climate change.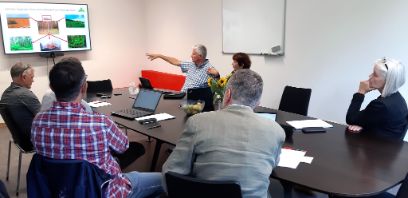 The presentation was followed by a round of discussion in which BFH-HAFL Director Dr Ute Seeling stressed her interest in strengthening cooperation with Ukrainian forest institutions.
During the meeting, the Institute team discussed both its past experience of working in Ukraine and the possibilities to develop joint projects, building on the current forestry needs in Ukraine and BFH-HAFL's extensive local expertise. Since 2003, HAFL staff have been involved in projects focused on advancing sustainable agriculture in Ukraine, training education extension in organic agriculture, as well as developing a Forest Financing Strategy and facilitating the Forest Sector Policy Dialog Process with the European Union.
Dr Mariana Melnykovych, a researcher with BFH-HAFL's International Forest Policy and Management Group and a Deputy Coordinator of the IUFRO Group on Social Innovations in Forestry, highlighted that "Professor Zibtsev's presentation gave us a better overview on the needs for rebuilding Ukraine's forest sector. We are very interested to include Ukraine's forest use and management as a case study in our master course AF-03 on Natural Resource Management and Climate Change led by Professor Claude Garcia to discuss with students how to solve such complex and intertwined problems. It might be a first step towards development of a future joint project with Ukrainian colleagues".
The presentation by Professor Zibtsev, and the opportunities for future collaboration that it presents, strongly align with Bern University of Applied Sciences (BFH) solidarity with universities in Ukraine and its efforts to support Ukrainian students, academic staff and faculty. Learn more about the BFH Solidarity with Ukraine initiative and read the joint RISEN University Alliance declaration.
Dr Dominique Guenat, Head of the HAFL Hugo P. Cecchini Institute, notes that the discussion during the visit helped identify tangible actions and research that can support Ukrainian forests at this difficult time. We are well placed, with our past experience in Ukraine, to contribute to solving climate, security and economic challenges, in partnership with our Ukrainian colleagues.
The visit to BFH-HAFL was organised by the HAFL International Forestry team and is part of Professor Zibtsev's visit to Switzerland as the Head of the Regional Eastern Europe Fire Monitoring Center (REEFMC). It follows a series of meetings and discussions with Geneva Demining and a number of UN organisations.
Find out more
Category: Research, International