BFH-HAFL and Cambodian Universities partner to promote field research and strengthen collaboration among students
16.11.2022 HAFL Hugo P. Cecchini Institute staff and BFH-HAFL master's and bachelor's students organised and participated in an event that aims to strengthen collaboration and exchange with Cambodian universities and members of Swiss Partnership Cambodia.
On 19 October 2022, the institute, together with Swisscontact, organised an event as part of the monthly series from Swiss Partnership Cambodia, a Swiss Business-NGO-SDC Partnership platform. The event focused on strengthening collaboration and exchange between Swiss and Cambodian Universities and members of the Swiss Partnership:- Swiss businesses, NGOs and the Swiss Development and Cooperation Agency (SDC) based in Cambodia. The student presentations showcased field research where BFH-HAFL students worked with development partners from Swiss Partnership Cambodia on topics of diversified conservation and regenerative agriculture.
Event host Dr Buntong Borarin, Director of the Research and Extension Division and representative of the Rector of the Royal University of Agriculture (RUA), delivered the welcoming remarks to 45 participants from the Swiss Partnership members, BFH-HAFL and RUA students.
In her role as both event co-organiser and representative of HAFL Hugo P. Cecchini Institute at the Swiss Partnership Cambodia, Dr Alessandra Giuliani highlighted the importance of field assignment opportunities hosted by Swiss Partnership Cambodia members and advocated for collaboration and exchanges between BFH-HAFL and Cambodian students.
According to Dr Giuliani, "The student field assignments in Cambodia and the Global South Countries allow students to put into practice freshly learnt tools of applied research in a real and at times challenging environment. They can also build networks with developing organisations and engage with Cambodian university students. This first-hand experience with developing projects, in a new cultural and social context, provides an invaluable life-long learning opportunity for our students."
Student presentations
The works of BFH-HAFL students was represented by Sofia Marcon, an International Agriculture undergraduate student, and Agathe Kunz, enrolled in the BFH-HAFL master's programme.
Sofia shared the preliminary results of her thesis where she worked on a research project with Swisscontact (in the Innovation for Sustainable Agriculture project) in Battambang, as part of a partnership with the National University of Battambang (NUBB), supported by CIRAD and CASIC on cover crops implementation in mango and longan orchards.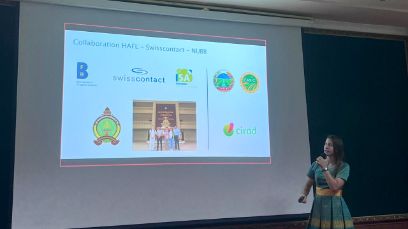 Agathe presented fieldwork results of her MSc thesis on the integration of goats on pepper farms, which was part of the pepper production project implemented by HEKS, with support from CIRD.
Pheap Sambo, PhD student at Nagoya University and lecturer at RUA, presented his study on conservation agriculture practice in Cambodia.
The event featured welcome and closing remarks by Markus Bürli, Director of Cooperation at the Swiss Cooperation Office and Consular Agency in Cambodia (SDC). As part of his closing remarks, Mr Bürli highlighted that development cooperation projects, while focusing on sustainable solutions, always have an end date. However, the experience and networks built by students and young professionals who participate in the projects lead to collaboration relationships beyond project end dates, thus encouraging greater sustainability.
What has already been achieved in Cambodia?  
This is not the first time BFH-HAFL students have worked with the development and cooperation organisations in Cambodia. Sofia Marcon's research builds on the same ISA project (Innovation for Sustainable Agriculture) where Celine Kaiser did her International Agriculture BSc research, also in collaboration with the National University of Battambang (NUBB). Celine's research was presented as part of this year's Tropentag, (see the poster presentation and abstract).
Additionally, in 2022, BFH-HAFL and NUBB have signed a Memorandum of Understanding that looks to strengthen the collaboration between the two institutions for student collaboration and exchange. In addition to the existing collaboration between BFH-HAFL and NUBB, the exchange with the Royal University of Agriculture (RUA) can provide a platform for future collaboration and academic exchanges.
Looking ahead – future collaboration opportunities 
An important part of the event was a brainstorming session with participants to highlight areas where they would see value in closer collaboration and ties between Swiss universities and Cambodia, resulting in:
joint studies between students covering areas with less research evidence, including participatory processes like practice with farmers in the field, and lessons learned from farmers;
seminars from Swiss students/Cambodian students and/or lecturers organised at RUA or other Cambodian Universities, involving a wider audience of Cambodian students;
tandems of Swiss and Cambodian students working on joint research for their theses in Cambodia;
joint research advisors (BFH-HAFL – RUA);
joint discussions and reflections from Swiss and Cambodian students who have worked together in the field;
joint lectures/online classes taught by Cambodian and Swiss lecturers;
field visits where Swiss and Cambodian students could practise applied research methods;
joint publications.
The event was followed by a networking lunch, where students had a unique opportunity to exchange with members of Swiss Partnership Cambodia and discuss their study topics and opportunities for future research.
As the team looks ahead to 2023, there are already plans to involve two BFH-HAFL MSc and at least two undergraduate students in International Agriculture to work on development and cooperation projects with organisations like Swisscontact, Goutte d'eau and RECOFTC.
Find out more
Category: Research, International