Change always gives you opportunities to learn new things
29.04.2021 We had a chance to sit down with the newest member of the HAFL Hugo P. Cecchini Institute and the International Agriculture Group, Dr Gurbir Singh Bhullar to talk about his research and what areas he is interested in exploring together with his students.
What led you to BFH-HAFL and what are you currently working on?
The first steps of my journey in this field were taken during my upbringing on a family farm in the Punjab region of northern India. This journey was pretty interesting, and I gratefully cherish all the flavours and experiences that it offered me. In my view, change always gives you opportunities to learn new things, and I was driven by this motivation when I considered the opportunity to join the team at BFH-HAFL. I also wanted to be closer to students. I saw teaching and interacting with students as the way to help me grow and develop professionally.
My research focus is on agroecological practices and the practical application of these practices for the enhancement of sustainability, food security and poverty alleviation. Most of my work is with small-holder farmers in non-OECD countries.
I see that you have quite some experience in organic agriculture, particularly in non-OECD countries. Would you like to share something on that?
After finishing my master's degree I had two job offers. I had the choice between a large multinational company working in the pesticide market and a much smaller company in the organic sector. I chose the second. For two years I travelled all over India speaking with farmers, giving lectures, and being exposed to a variety of production systems. That experience has helped me a lot, even in my recent work at the Research Institute of Organic Agriculture (FiBL), where I led the thematic area of tropical agriculture and had the opportunity to work in different parts of the world.
From your experience, what are some of the biggest challenges for organic farming in developing and transition economies?
From my experience, and from what I'm seeing as part of my work on agricultural research for development cooperation, there are several challenges:
The pressure from large corporations: the diplomatic, political and economic strength of large corporations is tremendous. In many cases these companies are much stronger than the local governments, even national governments. The corporations have the possibility, the know-how and means to influence international laws, trade agreements and policy. In many instances organic farmers are also at a comparative disadvantage, as government subsidies, for instance for agro-chemical inputs in conventional farming, are not available to them.
Insufficient value placement on basic goods. We, as a global society, have failed to recognize the worth of farming. We are eager to spend significant sums on the latest gadgets, but we do not want to spend marginally more on healthier produce. This has to do with our economic system, our value system and our primary education. For most people from an OECD context, food costs comprise only a small proportion of monthly expenditure. More of us can choose sustainably produced foods, yet fail to do so.
In developing and transition countries the purchasing power of the average consumer is low, and these consumers are forced to opt for cheaper produce. For several reasons, including non-accounting of external costs and subsidies etc, non-organic produce is cheaper.
In the two books you have published, you had to reconcile a variety of perspectives around food security. How difficult was this and what were some of your takeaways?
My first book, Agricultural Sustainability: Progress and Prospects in Crop Research, was published in 2013. I co-edited it with my wife, who is a molecular biologist. We included perspectives from the crop genetics side, crop science and ecology. For this publication I also had the privilege to interview one of the World Food Prize winners and leaders of the Green Revolution, Dr Khush. One statement from him particularly resonated with me. When asked if he could identify one major reason for hunger, he said: "The main reason for hunger and malnutrition is economic disparity between haves and have-nots" I fully agree with this.
My second book, Long-Term Farming Systems Research, focused on long-term field trials. I see these trials as a heritage and an important asset for us – the older they grow, the more valuable they become. Many of the publications that are based on these trials focus on a specific aspect. Instead, I wanted to present a holistic picture of the different perspectives from the various field trials with a wide geographic coverage: UK, USA, Canada, Switzerland, New Zealand, Soviet-era Russia and many other countries.
Reconciling genetic sciences and ecologic sciences from a purely scientific approach was not challenging. Knowledge is knowledge. It comes from both sides and it can be constructively used. Reconciling the two approaches only becomes controversial when people take sides for one approach or the other. The pros and cons of each should be openly discussed. For me both approaches are in the family and provide an opportunity for an open discussion.
What are the next steps in your research, what are the topics you are interested in exploring going forward?
Apart from agroecological farming approaches, I'm very keen to engage with consumers and the society. There is no other way forward, given our current economic model and value chains. The strongest force we have is the consumer. Many consumers currently perceive their food as originating at the supermarket. They do not consider the value chain leading up to the supermarket. There is a need to transparently inform and sensitize consumers that each meal they plan has a long-lasting effect on the ecosystem – their own ecosystem!
The other personal interest is around new solutions for the food market. My wife and I are both vegetarian, and we love cooking. Being able to focus on this idea has been a long-standing dream.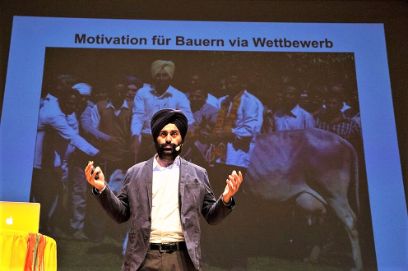 Last, but not least, what are you expecting from your students at BFH-HAFL as you start teaching and supervising research here?
It's now been quite some time since I've formally been a student, but I try to be a student every day in my life. My experience from teaching at the ETH has been that Swiss students are very much prepared to learn and are keen to learn. I look forward to actively engaging in teaching as well as learning together with BFH-HAFL students some new aspects of the ever-expanding universe of knowledge.
During field projects I look to both the details and the outcomes. My objective is two-fold: first that the students learn how to do the research, and second, that they learn to see their research in a specific context. The socio-economic and cultural aspects are equally important. Agriculture is not like a factory setting – it works differently in different contexts. I feel that is one of our roles in the International Agriculture group to expose students to the realities of different worlds.
When we plan a study, I give value to the ideas of the students. If the students have research ideas, I am very happy to discuss and develop projects around them. I'm not limiting myself to specific crops, or specific settings thanks to the diversity of experience that I've had. I'm very interested and eager to collaborate with colleagues from other departments in supporting student projects.
Find out more
Category: Research, Studies