New database seeks to improve knowledge of shallow landslides
08.11.2023 A national database of geotechnical soil properties will make it possible to gain a better understanding of the causes of shallow landslides and develop efficient solutions to prevent them. The researchers will present the results of the project at Burgdorf Geotechnics Day 2024.
Superficial landslides occur fairly frequently in Switzerland and can cause major damage to buildings and infrastructure. In order to better understand surface landslides to facilitate better planning of protective measures, researchers at Bern University of Applied Sciences BFH are compiling a database containing data on landslides, which they have obtained through laboratory experiments. This will permit statistical correlations between the soil types involved in superficial landslides and their geomechanical properties to be determined.
Collaboration between two schools
The project, which goes by the name of Data-Rutsch, is a collaboration between the Mountain Forest, Natural Hazards and GIS Research Team at the School of Agricultural, Forest and Food Sciences HAFL and the Geotechnics and Natural Hazards Research Group at the School of Architecture, Wood and Civil Engineering AHB. The soil samples that populate the database come from the collections of the two research groups as well as from private Swiss laboratories.
Presentation at Burgdorf Geotechnics Day 2024
The researchers will present the results of their investigations at Burgdorf Geotechnics Day 2024, which will take place on 26 January 2024. The conference will focus in particular on how to deal correctly with the subsoil in construction projects. Participants will receive concrete answers to questions on how they can reduce geotechnical risks and costs in construction projects.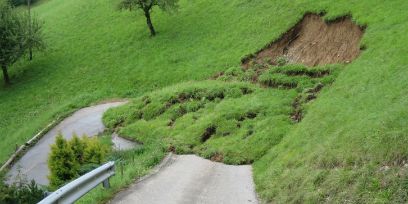 Find out more