Liberty Robotic Rehabilitation Platform
The Liberty Robotic Rehabilitation Platform is a novel robotic rehabilitation device that serves as a platform for intensive, bed-based rehabilitation of patients with severe disability and functional impairments.
Factsheet
Lead school

School of Engineering and Computer Science

Institute

Institute for Human Centered Engineering (HUCE)

Funding organisation

Innosuisse

Duration

01.01.2021 - 31.08.2023

Project management

Prof. Dr. Kenneth James Hunt

Head of project

Prof. Dr. Kenneth James Hunt

Partner

Liberty MedTech Sagl

Keywords

Rehabilitation, neurorehabilitation, robotics, health tech
Situation
According to the report from the World Health Organization on disability, 15% of the world population suffers from some kind of disability. Therefore, effective rehabilitation technology is required to restore the functional activities of daily living. Among the current rehabilitation programmes, robot-assisted training is considered as a promising paradigm, especially for patients with severe impairment levels. Despite availability of many rehabilitation robotic systems, there is large potential for mechanical and functional improvement. Current rehabilitation robots provide therapy only for the lower limbs or for the upper limbs, but there is no system that can produce coordinated arm-leg training. Recent neurophysiological research revealed "interlimb neural coupling" during walking and proposed that synchronised arm and leg movement should be practised to promote neural plasticity. Furthermore, recent research revealed the advantages of cable-driven robotic devices. Due to characteristics such as low inertia, easy configuration and high speed and power output, belt actuation is applied in robotic arm rehabilitation and gait restoration. Such soft interfaces with the human remove the motion constraints brought by rigid exoskeletons. Belt actuation can produce natural compliance in movement control. Lastly, it is generally believed to be important to start training as soon as possible. However, few robotic systems exist for early rehabilitation of arm-leg movement.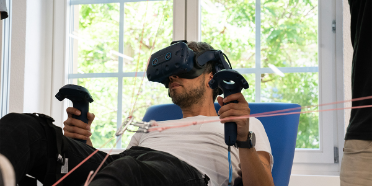 Course of action
To provide early whole-body rehabilitation, researchers are developing the Liberty Robotic Rehabilitation Platform, a novel robotic rehabilitation device that serves as a platform for intensive, bed-based rehabilitation of patients with severe disability and functional impairments. The Liberty Platform can address full-body (upper- and lower-limb) therapy, including transfers and turning, at an early stage of rehabilitation, while the patient is restricted to lying on a bed. The key technical innovation in the Liberty Platform is the employment of flexible, cable-based connections between the actuators and the patient's limbs, making Liberty a form of "soft robotic device." In addition, multi-modal biofeedback provides the patient with the highest possible levels of motivation and active participation.
Result
Within this project, a full-scale prototype was designed, constructed, programmed, and technically evaluated, in readiness for subsequent clinical usability trials. With 17 actuators, the platform can transfer the participant between the wheelchair and the therapy bed of the system and can produce various ipsilateral / bilateral arm-leg movements in the sagittal and coronal planes. The prototype was tested in three able-bodied participants and was proven technically feasible in producing the target movement. The prototype is now ready for clinical feasibility testing. Clinical trials with target patient groups will subsequently be performed prior to market launch. Appropriate clinical inputs to the design and evaluation of Liberty was assured through collaboration with medical and therapy personnel from major neurorehabilitation centres: this input was obtained during the initial development and preliminary evaluation of the Liberty concept, during the previous Innosuisse project, and this clinical expertise has been embodied in the full-scale prototype developed in the current project.
Looking ahead
A follow-up project is planned to perform a clinical usability assessment and evaluation study in our clinical partner Reha Rheinfelden, to determine the feasibility of the multi-functional platform for early whole-body rehabilitation in patients after stroke and with varying degrees of impairment.
This project contributes to the following SDGs