In-situ assessment of battery state of health
Batteries storage systems are the core components of environmentally friendly e-buses. A measurement procedure is being developed to quickly determine current battery capacity in-situ at the vehicle.
Factsheet
Lead school

School of Engineering and Computer Science

Institute

Institute for Energy and Mobility Research IEM

Research unit

IEM / Batteries and storage systems

BFH centre

BFH Energy Storage Research Centre

Funding organisation

Others

Duration (planned)

01.11.2022 - 31.12.2024

Project management

Prof. Dr. Andrea Vezzini

Head of project

Bruno Eric Marc Lemoine

Partner

Verkehrsbetriebe Zürich
Basler Verkehrs-Betriebe
Carrosserie Hess AG

Keywords

State of Health, SoH, electromobility, in-situ measurement
Situation
Battery storage systems are the core components of environmentally friendly trolley- and e-buses. Because battery lifespan has a significant impact on the cost effectiveness of these buses, information on battery ageing is of considerable interest to operators. When discussing battery ageing, the term 'state of health' (SoH) is used to indicate the battery's current capacity as compared with its nominal capacity when it first entered service. In order to establish the current battery capacity – which often determines the vehicle's range – a suitable measurement procedure is required. In this project, a measurement procedure is being developed that can be carried out in-situ at the vehicle. Using an in-situ method should make it possible to assess a battery's SoH without having to occasionally carry out extensive cell tests in a laboratory. The method can therefore be easily incorporated into a vehicle fleet's operational concept. Data on the battery's SoH allows the operator to take appropriate measures on how to continue using the battery, and offers feedback for devising age-optimised operating strategies. Information about the battery's condition can also be used to make decisions on second-life battery use.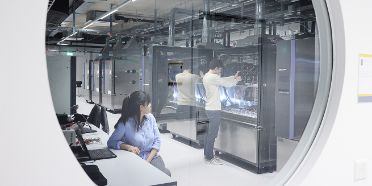 Course of action
The solution developed by BFH and HESS aims to measure the SoH by using a predefined charging process. This allows the SoH to be determined without carrying out time-consuming full charges of the vehicle's battery. Measurements must be obtained from the vehicles twice a year in order to gain a detailed picture of each vehicle's battery degradation.
This project contributes to the following SDGs