Development of a floor panel with integrated capacitive sensor technology to collect activity data. This data can be used as an information basis for smart homes, for fall detection or for security systems.
Factsheet
Lead school

School of Architecture, Wood and Civil Engineering

Institute

Institute for Materials and Wood Technology

Research unit

Adhesive Technology

Funding organisation

Innosuisse

Duration (planned)

01.01.2022 - 01.01.2025

Project management

Prof. Dr. Thomas Volkmer

Head of project

Prof. Dr. Thomas Volkmer

Project staff

Filipp Wirth
Corinne Amstutz Hugi
Irene Weber

Keywords

Capacitive sensor technology, machine learning, tracking, integrated sensor technology, smarthome
Situation
The ageing of society and the shortage of skilled workers in the care sector makes it necessary to develop concepts that enable large sections of the population to grow old safely in their own home environment. In the area of smart homes too, ever more advances are being made that relieve us of management and monitoring tasks and automate them. However, such concepts are often developed very specifically for one task only and current fall-detection systems rely on very complex sensor systems that make large-scale deployment complicated and thus, expensive. Capacitive sensor technology, on the other hand, does not need any mechanical components and can also be used over a large area, as the electrical components are becoming cheaper all the time. Capacitive sensors detect not just direct contact but also proximity, meaning that they can provide not only much more information than force sensors, for example, but can also be placed under non-conductive surfaces. This means that the sensors are not visible on the surface of a product.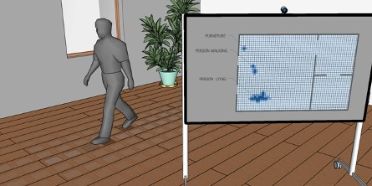 Course of action
The project involves developments in various fields of research, from electrical engineering to computer science and materials science. The first step is to evaluate and appraise the solutions currently available on the market, with a view to developing a concept that works around the problems of previous products and builds on their strengths. The next step is to determine the use scenarios that the smart floor will have to recognise and distinguish from each other. The sensor technology is then developed and configured on the basis of these scenarios. Once the prototypes have been created, the evaluation and analysis of initial data must also take place in parallel, in order to create a basis for the reliable identification of the various use scenarios and to draw conclusions about the configuration of the sensors. Using a machine-learning algorithm, the data is evaluated to differentiate the variance of the various inputs. The relevant training data is collected with the prototypes so as to be able to train the algorithm on the scenarios afterwards. The development must be intensively tested at the end of the project and further improvements made to the algorithms and, if necessary, the electronics.
Result
The goal of the project is to develop a floor that can distinguish defined usage scenarios using integrated sensor technology. It should be a system that not only collects relevant data, but also evaluates it. Since the system can be deployed in very different scenarios, the output should only be a classification of the usage scenarios and not trigger direct switching signals. For example, it should differentiate between someone walking and a person that has suffered a fall, as well as between a pet and a flowerpot. This information can then be fed into existing systems (alarm system, smart home, etc.).
Looking ahead
The project is concerned with the localisation of people in rooms. The potential fields of application are many and varied. In addition to fall detection and a deployment in smart homes already mentioned, a system of this kind could also be used during a pandemic to monitor social distancing. Large-scale use in public buildings could also make it possible to perform quick people counts, movement analyses or statistics and thus, generate fascinating information in other areas of research. Another constantly growing market is the field of computer games and augmented or virtual reality. Here, a special floor could pinpoint people's positions and create avatars in a digital space in the corresponding location. Depending on how accurately the system is able to work, it could theoretically also recognise people based on specific walking patterns.