Anna Knutti – "The entire package is simply great."
"I'm a fan of BFH. Obviously, I'm not always completely happy with absolutely everything, but the entire package, taken as a whole, is simply great. What I especially like is how my remit keeps changing. This really helps me move forward." Anna Knutti has been a lecturer in business at BFH for 10 years and teaches both at the bachelor's and at the continuing education level.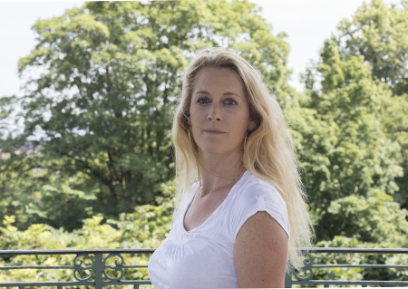 What do you like about your job as a lecturer at the BFH Department of Business?

Definitely the wide variety of tasks. From the quieter phases when I immerse myself in specialist reading and broaden my knowledge to the actual, lively teaching sessions there is the whole gamut of what it means to be a lecturer. Interacting with the students energises me no end. It's great to see how the Bachelor and Continuing Education students develop and tackle the challenges of their studies.
What have been your career steps so far, and how did you come to join BFH?

I have been at BFH Business for 10 years now. It's impossible to give a brief overview of my career steps as my profile has changed so often. First, I "only" worked in the service area of continuing education as head of studies.

Since 2015 I have also been working as a lecturer at the bachelor's level. That is a completely different role. It's not just the actual work, but also the target group that is very different. Currently I am working in both service areas (teaching and continuing education). It's extremely diversified but also very demanding work. I have never been very good at sports, and so this balancing act is a real challenge sometimes.
Why did you spontaneously agree to become a "Face of BFH"?

When I was approached for a testimonial as part of the new presentation of BFH as an employer, I didn't have to think long and agreed. I stand wholeheartedly by my testimonial and I hope that many likeable new colleagues will be attracted by our authentic statements.
You celebrated your tenth year at BFH recently – looking back, what would you see as your personal highlight in this time?

There have been lots of highlights in these 10 years, of course. If that hadn't been the case, I wouldn't be giving this testimonial (laughs).

If there is one thing I like to remember in particular, it is the diploma ceremony of last year's bachelor students. There, on the stage, were the first of "my" students, whom I had taught in their first semester in Autumn 2015. After the awarding ceremony graduating students came up to me and said "Oh, Ms Knutti, it was such fun being taught by you. We'll miss you." Now they may have said that to every lecturer (laughs), but I was really touched.
Profile
Function
Lecturer and Head of Studies
Departement
Business
Standort
Brückenstrasse for at the bachelor's level and Schwarztorstrasse for continuing education. I'm a frequent commuter between the two locations and my office at home.
At BFH since:
April 2010
Education
Bachelor's degree in political science (Berlin)
Master's degree in business and politics (Geneva)
Executive MBA (Bern)
Describe BFH in 3 words
multifaceted – down-to-earth – open
My contribution to diversity at BFH:
My humour and my pragmatism
My almost unlimited enthusiasm to accompany people on their professional career paths
My ability to be inspired by a great variety of things and thus, I hope, to inspire others
My many years of professional international experience
My disposition not to take myself so seriously all the time
(Or how many people do you know who turn up at a highly official continuing education graduation ceremony wearing a wig, and address the audience in Plattdeutsch (Low German)?