Human Factors in Engineering
This project investigates how to use approaches of augmented intelligence and assistive technologies to empower workers in different fields of application, ranging from industry to the health sector.
Factsheet
Lead school

School of Engineering and Computer Science

Institute

Institute for Human Centered Engineering (HUCE)
Institute for Data Applications and Security (IDAS)

Research unit

HUCE / Laboratory for Computer Perception and Virtual Reality
IDAS / Applied Machine Intelligence

Funding organisation

BFH

Duration (planned)

01.01.2022 - 31.12.2023

Project management

Prof. Dr. Mascha Kurpicz-Briki

Head of project

Prof. Dr. Sarah Dégallier Rochat

Project staff

Prof. Dr. Sarah Dégallier Rochat

Keywords

Augmented Intelligence, cobotic, Augmented Reality
Situation
New technologies such as augmented intelligence, cobotics and augmented reality have the potential to empower workers, that is, humans can become more efficient thanks to these smart tools. This allows to overcome the typical human limitations (such as memory, speed, force or mental load) while still benefiting from their unique strengths (such as adaptability, creativity, critical thinking, …). This novel approach focusing on human-machine complementarity rather than human replacement is gaining in strength in a society in constant change. Indeed, solutions based on artificial intelligence and full automation are often not flexible enough, they take too long to be implemented and fail to solve complex problems in a profitable way. A socio-technological perspective that places the human at the center of the development of technologies is thus required.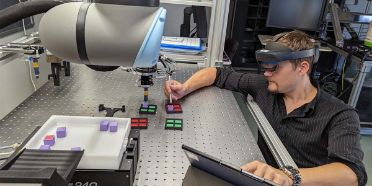 Course of action
The use cases for the application of such technologies are numerous (health, psychology, industry, …) and require thus interdisciplinary interaction. In addition, to be effective, a human-centered design of these assistive technologies is required, and a socio-technological perspective needs to be taken. Whereas such human factors are often neglected in engineering, they have a major relevance on the way the digital society of the future, and in particular the interaction with machines and computers, is shaped. In this project, we investigate different interdisciplinary areas of application for such augmentative and assistive technologies. In particular, we explore how to design technology in a way that empower workers in their work, for instance, by automating difficult or dull tasks.
This project contributes to the following SDGs