BFH alumni at the Berlin Design Week
19.05.2023 Upon invitation of the Swiss Embassy, the two BFH alumni, Gabriel Köferli and Lars Zinniker, present their innovative design objects "fagusnoir" at the Berlin Design Week. The duo is part of the "Young Talents" exhibition, which features 22 designers from eight countries presenting their current work on the themes of social impact, green impact and sustainability.
Wood; a precious resource. And yet, native tree species such as beech are hardly taken into consideration in the design sector. We much prefer to import rare species such as oak, walnut or cherry for our furniture and interior design. One reason for the popularity of these types of wood is their dark colour and distinctive grain. This trend means that the native beech is becoming more and more of a problem tree. The wood is either sold cheaply abroad or used in Switzerland as firewood. However, two former students of the Bern University of Applied Sciences (BFH) in the Department of Architecture, Wood and Construction (AHB) show that this is not a given – we can do better!
In the wood technology laboratory at BFH-AHB in Biel, Gabriel Köferli and Lars Zinniker developed a natural process that changes the wood's own colour. The process is based on a chemical reaction of the two substances tannin and iron, which react with each other in the wood. The result is a dark colour and a unique grain. In technical terms, this process is called fagusnoir. Therefore, the name of the start-up chosen by the two graduates of the Bachelor of Wood technology could not be more perfect. The two BFH alumni are also part of the BFH-AHB's changemaker programme for entrepreneurial projects. Now, they are able to present their work at the renowned Berlin Design Week.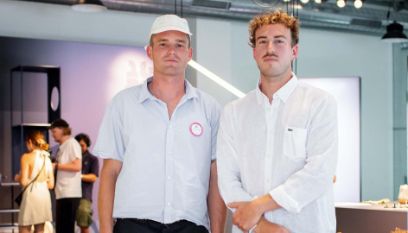 Find out more