Marius Disler – Seeing challenges as opportunities
Marius Disler describes his start-up company mikafi as the greatest adventure of his life. His aim in creating the company is to reshape the future sustainable coffee experience. The idea came to him when travelling in Colombia, where a cup of freshly roasted coffee changed his life.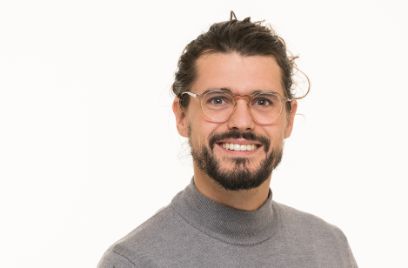 Marius Disler, the story of mikafi begins with a Master's in Design at Bern University of Applied Sciences. How did that come about?
I was working for a marketing and branding agency in Zug and studying business at the same time. At the agency, I learned how designers work, became increasingly involved in the creative side of things and ended up wanting to work more on the designs rather than just managing projects. That's when I applied to do a Master's in Design at BFH and was accepted onto the programme.
What aspects of your studies at BFH were of most benefit to you?
There were all sorts of different aspects but, above all, learning to be self-disciplined. Instead of taught input, the lecturers offered a wide range of knowledge sources and invited us to help ourselves. At first, I almost felt slightly abandoned, but it spurred me on to be proactive and get what I needed. And I learned to implement and try out ideas very quickly.
But the idea for mikafi was triggered by an experience immediately before your studies began?
Correct. Before I started my studies, I took a trip to Colombia. I visited a coffee plantation, where I learned how coffee is grown, harvested and roasted, and I got to sample various fresh roasts, from nutty chocolatey aromas to orange notes. It was a life-changing experience. Drinking that coffee was a totally different feeling, and I knew then and there that I had to share this experience with others back at home.
After your Master's, mikafi won you a funding prize from Gebert Rüf Stiftung's 'First Ventures' programme. How did that feel and how have things changed?
It was my first competition and I won. It was only later that I properly understood how fortunate I was and what it means. Trying to get the money together for a project that isn't earning money yet is brutal. I am unbelievably grateful. If it hadn't happened, there would be no mikafi today.
But the funding allowed you to found the mikafi start-up and set to work.
Yes. I only paid myself basic living expenses and invested the rest in developing the platform and the roasting machine. I quickly got to work on establishing a mikafi ecosystem too, working together with a range of partners and universities and gaining valuable insight from experts. A good 15 student research projects also helped support us. This partnership approach became the key hallmark of mikafi.
mikafi is now a start-up with a small team.
Yes, happily we have a very ambitious team now, developing and driving the products. In the beginning, I was much more hands-on, still doing a lot of the design myself. Today, my diary is full of appointments with potential new customers and investors, but also meetings with our partners and engineers.
Was it difficult to make the transition from mikafi the one-man operation to mikafi the team?
Yes, very difficult. Personally, I find delegating a challenge. We are a team. We are all involved in mikafi and I have a co-founder who has the same standing as I do. Nevertheless, I constantly find myself wanting to hold the reins and make decisions.
What was the greatest challenge when establishing the start-up?
Definitely financial insecurity. During the coronavirus pandemic, we wanted to approach the catering target group to raise seed funding. We had over 70 investor meetings. It took half a year to find the perfect partners. And then there's the uncertainty on the business side: What will happen tomorrow? Will anyone copy us? Will we be able to find the right people? In the end, it all boils down to perspective: I'm still learning to see challenges as opportunities. It puts an extra positive spin on things and I like that.
How do things stand with the project at the moment?
The fourth version of the roasting machine will be ready in the summer. It's a key part of our concept, although we're not building it ourselves. We will be making this machine and a beta version of our platform available to the first customers in a pilot phase. We are planning several pilot phases to test different market segments, the machine, the digital platform and the local coffee experience.
The pilot phase is just around the corner but there's still a long way to go. How do you keep your motivation flying high?
Firstly, we're doing something good with mikafi – something that can change the world in a positive way and that encourages a more conscious approach to consumption. Secondly, I couldn't learn as much anywhere else as I do at mikafi. That spurs me on every morning.
mikafi – future coffee experience
The start-up company mikafi has set itself the goal of redesigning the future coffee experience. The idea is that catering outlets and retailers will purchase the green coffee beans directly from the importer and roast them locally, offering consumers a fresh and sustainable coffee experience. mikafi is currently developing the concept and the digital platform via which the entire process will be controlled. To register on the platform, importers will have to meet specific standards when it comes to transparency, the traceable origin of the coffee, the direct involvement of the farmers and fair and direct payment. Catering outlets and retailers will find detailed information about the coffee beans and their origin on the platform. And, last but not least, the mikafi platform will enable fully automatic control of the roasting process in the machine on the caterer's or retailer's premises. The initial pilot phase is set to get underway in summer 2021
Degree
Gebert Rüf Stiftung's «First Ventures» programme
With 'First Ventures', Gebert Rüf Stiftung funds bachelor's and master's students at universities of applied sciences who are developing an innovative business idea as their thesis topic.
Factsheet
First name
Marius
Last name
Disler
Position
founder and CEO of the start-up mikafi
Employer