RISE software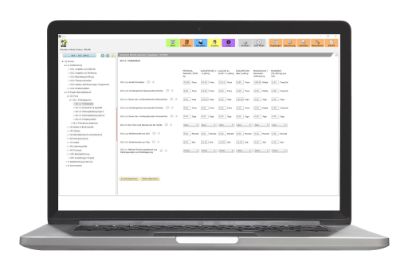 Download RISE
To access the software, please go to www.farmrise.ch and log in with your user data.
The creation of a user account is usually subject to a fee. The various licence options can be found here. You also have the option of requesting free trial access.
Do you want to install the software for the first time? Contact us and we will explain you individually how to proceed.
Publications
A selection of publications based on RISE or about RISE and sustainability in agriculture can be found in this list of publications.
RISE Flyer
FAQs – Frequently asked questions
Why is RISE not more accurate (e.g. by using GIS and high-resolution satellite images)?
RISE is used to get an initial overview of the farm and to look for possible problems and potentials. While perhaps desirable, it would be an inefficient use of time and money to analyse unproblematic areas with the highest accuracy. In the areas for which RISE indicates possible problems and potentials, we recommend carrying out more detailed analyses using subject-specific methods.
Why is the most accurate possible calculation not done for each indicator?
The data required for the most accurate procedures, e.g. the calculation of the compaction risk with TASC, either require a large collection effort – direct reading from databases is rarely possible due to varying data formats – or this data is not available nationwide at all.
Why are there the themes «soil use» and «water use», but no indicator or theme «air»?
Soil and water are both means of production and environmental resources to be protected, therefore the indicators reflect both aspects. On the other hand, air is usually not regarded as a means of production, but only as a «sink» of ammonia and greenhouse gases. The theme thus has a smaller scope than water and land use. The influences of production on the air have been integrated into the indicators «air pollution» and the theme «energy & climate».
Why is there a theme «animal husbandry» but no theme «crop production»?
Most aspects of crop production are included in the «soil use» theme. In this respect, this is more a question of naming. The «animal husbandry» theme has not been integrated into another area in RISE – as in most such systems – because ethical aspects are mainly addressed here. These are usually only relevant in agriculture regarding the handling of farm animals.
Which types of energy consumption should be entered in the questionnaire, for example, does the electricity consumed in the farm shop for direct sales also count?
All energy sources should be included in consumption and evaluation, i.e. diesel, as well as electricity, gas, etc.

Farms that not only do pure production, but are also active in other links in the value chain, perform too negatively in the evaluation because the thresholds relate to agricultural production.
This affects farms with energy-intensive areas, such as potato storage facilities.

In direct sales, power consumption varies depending on the farm and on how much cooling/heating is needed.
Irrigation is part of production, as are robotic milking systems, in which human work is replaced by mechanical work (which increases energy consumption), as well.

➔ All these types of consumption are recorded in the questionnaire and included in the results.

The indicator does not allow any statement as to whether the farm consumes a lot or little energy compared to other farms in its farming system. Of course, this would be interesting, but the effort required to record the operational orientation and the consideration of the state of technology in a region is too time-consuming. Therefore, the indicator makes a rough statement as to whether this is a farm that consumes a lot or little energy compared to all other farms and how dependent the farm is on non-renewable energy.

In the discussion with the farm manager, the energy management indicator is suitable to make a statement about whether the potential for energy saving has been exhausted.
Why can I no longer log in?
Usually, there are two possible reasons:
There is a problem with internet access or the password has been entered incorrectly.

1) We recommend opening a browser and visiting a few websites to make sure that the connection is effective and that pages from the cache are not displayed.
2) RISE counts the login attempts. After five failed attempts, the user is blocked. This prevents unauthorised persons from trying multiple combinations. Since the RISE password has to meet several conditions (large-small-number-special characters-8 digits), a user account can occasionally blocked by accident. It is not a poblem to reactivate such an account (see question: I forgot my password, what can I do?). From outside, no one has access to your password.
I have forgotten my password, what can I do?
Please contact the support team at rise.hafl@bfh.ch. You will be sent a new password, but this may take some time as the password has to be re-created by a RISE administrator. If it is very urgent, call +41 31 910 29 73.
Is it possible to work with RISE without an internet connection?
Yes, it is possible to work with RISE without any internet connection. Install the software on your computer and synchronise the data before disconnecting the internet connection (see chapter 7 in the software manual).
Why do I still not have access to the RISE download file after installing Silverlight? 
When opening farmrise.ch, please use the Internet Explorer 11 browser and not the Edge Explorer, the two are often confused with each other.
In some cases, you may need to manually enable the Silverlight plug-in in your browser:
1. Open the menu in your browser.
2. Click Add-ons.
3. Find Silverlight and change the settings from "Always block" to "Always enable".
The settings may vary slightly depending on the browser.
What can I do if I don't find an answer to my question in this software manual?
Please contact RISE team via the «Support request form» below.
Why are some indicators, or the whole polygon, not calculated?
If the results are not calculated, it is usually because the questions which are needed for the calculations are incompletely answered. Find the problem-solving instructions here.
Personal support
Do you have any questions about using RISE, the method's content, the indicator calculations or a complex consulting situation for which you need support? We are also happy to help with surveys in new regions and master data maintenance. Please get in touch with us!
You are entitled to one hour of free support per licence and year. We charge a fee of CHF 125 incl. VAT / € 115 or USD 120 excl. VAT for service provision exceeding this allocation.