Partnership between BFH-HAFL, Yezin Agricultural University and Helvetas Myanmar
A partnership between BFH-HAFL, Yezin Agricultural University and Helvetas Myanmar is a win-win for local development and the broader research community.

Factsheet
Lead school

School of Agricultural, Forest and Food Sciences HAFL

Institute

Resource-efficient agricultural production systems

Research unit

International Agriculture and Rural Development

Duration (planned)

01.03.2017 - 31.12.2021

Project management

Alessandra Giuliani

Head of project

Alessandra Giuliani

Project staff

Alessandra Giuliani
Stefanie Graf

Partner

Helvetas Myanmar
"As the COVID-19 pandemic calls on development organisations like Helvetas to ensure linkage between short-term emergency responses to the economic impacts of the pandemic and long-term development practices, projects that empower local actors are absolutely critical. By working together with BFH-HAFL and Yezin University, we're able to build sustained local capacity and empower researchers in Myanmar to apply global best practices considering the local context."
Peter Schmidt, Helvetas Myanmar Country Director
The collaboration between BFH-HAFL and Yezin Agricultural University (YAU) started in 2015 with the visit of BFH-HAFL professors to discuss the potential partnership and present HAFL student-centred approaches, such as Problem-Based Learning (PBL). Several officials from the government of Myanmar and key staff of YAU and BFH-HAFL shared ideas and exchanged views about how to cooperate more closely with each other in such a way that the human capacities of YAU will be further strengthened and regular exchange among staff of both agencies can take place.
Shortly after, on request of the Swiss Agency for Development and Cooperation (SDC)/Embassy of Switzerland in Myanmar, a fact-finding mission was arranged with the assistance of Helvetas Myanmar under the Gulf of Mottama Project (GoMP), a project implemented by Helvetas Myanmar and funded by SDC that promotes sustainable use of the wetland area for the benefit of community livelihoods and conservation of coastal natural resources.
"For SDC the objectives of the GoMP project are two-fold," says Moe Moe Than Win, Senior National Programme Officer, Embassy of Switzerland in Myanmar: "it aims at building a structure, while facilitating and contributing to the conservation of biodiversity. By integrating the different components of the project, including the partnership between YAU and BFH-HAFL, we have increased the momentum of the impact on the ground".
Based on the positive outcome of both missions, the two universities signed a two-year partnership agreement in July 2016. The core principles of the agreement were:
To support YAU staff through a scholarship programme for young YAU staff to study at BFH-HAFL;
To assist YAU in the elaboration of student-centred learning and competence-oriented exam methodologies and corresponding revision of curricula;
To support the exchange of students from BFH-HAFL/YAU with defined BSc/MSc theses in the GoMP framework;
To facilitate joint research for development projects through international competitive bidding.
Since then, four Swiss students from BFH-HAFL (three Bachelor's and one Master's programme student) have worked in tandem with YAU students and researchers on the GoMP projects. At the same time, as part of the scholarship programme, three students from Yezin have travelled to Zollikofen in Switzerland to pursue a European Master's degree.
The programme consists of YAU students traveling to Switzerland first for one year, during which they complete their course work and design their MSc thesis, along with a principal advisor from BFH-HAFL. Then, the students travel back to Myanmar to do the fieldwork for their thesis on the GoMP activities, assisted by Helvetas Myanmar and the GoMP staff, and finally come to Switzerland a second time to analyse their data, write up the thesis and defend it.
A two-week training workshop on student-centred learning and competence-oriented teaching methodologies was planned to be held at YAU in May 2020 and had to be postponed to 2021 due to the Covid-19 pandemic.
The two universities have also recently worked in the framework of the last pillar of the project, focused on joint research proposals, having obtained funds from GIZ for a project on "development of a BSc specialisation in Food Science and Technology (FST) and enhancement of the newly established FST department at YAU" in 2018. The teams are now working on the proposal for the second phase.
Student tandems are at the heart of capacity development
While all parts of this collaboration are key to strengthening YAU capacity and developing student-centred learning, the student tandem field work and exchange opportunities are at the heart of the project. The students from both universities are given the opportunity to do their field assignments supporting Helvetas activities in the Gulf of Mottama.
According to His Excellency, Ambassador Tim Enderlin, "Switzerland believes that this partnership allows on the one hand Swiss students to get exposure to the problems and challenges of farmers in a developing country such as Myanmar. On the other hand, and by pairing them with students from YAU, it allows for a cross-learning experience, as students from Myanmar get the opportunity to experience different teaching methods, such as problem-based learning that are not yet being used much at YAU."
Jos van der Zanden, the Gulf of Mottama Chief technical Advisor at Helvetas Myanmar, also highlights the two-fold scope of the partnership, the first being the student contribution to the ongoing project to support local communities in their agricultural activities as part of the GoMP. The second, broader scope, is focused on sustainable skills development in Myanmar as the students who go through this programme come back to Yezin Agricultural University after completing their studies and continue to teach other Bachelor's students. "This way the university continuously improves teaching methods, which ensures that the overall agricultural development principles that are at the core of our project are sustainable in Myanmar".
According to Dr Alessandra Giuliani, the BHF-HAFL head of the project based in Myanmar since the project started, it is imperative that students come prepared for the field work. Having the students from both universities first study side-by-side at BFH-HAFL is key to this process. She also argues that "sometimes the Myanmar students studying at BFH-HAFL struggle with the new teaching and learning approaches. Having BFH-HAFL students learning alongside them can provide much needed support. In return, their experience shared with the BFH-HAFL students during field work in Myanmar is very precious. The Myanmar students are also extremely keen to apply their new knowledge and skills in student-centred learning once they are back at YAU as teaching staff as they appreciate its value. Having been based in Myanmar for the past 4 years, and living at the intersection of the two cultures, I understand the value that this programme is creating. I have formed a truly personal connection to the exchange programme and the students involved: developing friendships and building bridges across the two cultures is an integral part of it!''
The principal advisors unanimously report rapid progress of the students in adapting to the European learning culture. Furthermore, the students get used to discussing content issues with increasing confidence with the BFH-HAFL scientists familiar with the subject matter and the field reality of their theses. "It is encouraging to see how a student, through her thesis work, accumulated knowledge and skills on rice cropping systems not only at global level, but really down to the specific field reality in Gulf of Mottama," says Prof. Urs Scheidegger, previous Head of Master Studies at BFH-HAFL until January 2020.
Prof. Tin Tin Aye, International Relations Director at YAU, notes that during this experience YAU students are empowered to exchange knowledge and ideas with their peers at BFH-HAFL. They bring the required contextual understanding to the project work and are able to apply what they learn in the classroom by working in tandem with BFH-HAFL on the Gulf of Mottama Project.
Jos van der Zanden adds that "the year that students from Yezin spend learning at BFH-HAFL in Switzerland is very valuable – they learn a lot about improved research methods, and then come prepared for their field assignments on the GoMP. Before students begin to work on the project we carefully discuss their strengths and interests – what they would like to research and where their academic interests are, as well as what the current tasks and needs are for the Helvetas team working in the Gulf of Mottama. It's really a unique combination from both sides that brings the most value out of the student work. To give you an example of a field assignment, we've had students working on the development of our Greenway App, a mobile application that empowers farmers in Myanmar to ensure they can maximise their production by providing them with updated technical agricultural production and market information. Based on the data they put into the app they can perform a cost-benefit analysis on their farming activities. This app is a way for us to empower the farmers, as well as a Monitoring and Evaluation tool for us to assess the impact of our work on the local community. In the past, students helped shape the development of the app by interviewing farmers and conducting focus groups with the farmers to discover more about their digital needs and their ability to leverage this technology. Soe Khaing, a current student within the programme, continues to work on this app, supporting the roll-out efforts."
Seeing results and looking forward to the next steps
Both the BFH-HAFL team and their Yezin University counterparts feel that the project is delivering on the objectives that were defined as part of the initial agreements. "Our partnership with BFH-HAFL and GoMP/ Helvetas has enabled many of our students to grow both academically and professionally. They not only learned new techniques and approaches as part of their European Masters, but were also able to apply themselves at higher professional levels, and were promoted to Assistant Lecturer positions at YAU. This ensures that this knowledge exchange leads to new sustainable practices at Yezin Agricultural University," says Prof. Nang Hseng Hom, YAU Rector.
With many results already achieved, and a number of activities underway, the agreements detailed in the initial partnership were extended with a second Agreement to continue through 2021. This timeline coincides with the second phase of the Helvetas Myanmar Gulf of Mottama Project.
The team at Yezin University is happy to continue exploring the capacity building aspects of the partnership with BFH-HAFL, as it provides an opportunity for them to submit joint agricultural development project proposals. According to Prof. Nang Hseng Hom, in the current context of the COVID-19 global pandemic, having these types of partnerships is critical to timely implementation and sustainability of projects.
For Helvetas Myanmar this has also been "a win-win situation," says Jos van der Zanden, "it's great to have students from both universities to support our project work, and I see the value that students get out of this experience – they receive hands-on practical research experience, and become much more confident having applied what they learned during their field assignments. I think it's a wonderful opportunity for the students to experience another culture, which then enables them to jump-start their future careers. We have many staff working in Helvetas Myanmar that really bring a lot of new insights into their roles having lived and worked in other countries. It's the same with the students who go through this programme. I went through a similar experience during my Masters studies at Wageningen University and know first-hand how these experiences can expand the students' skills and kick-start their future careers".
Markus Buerli, Deputy Head of Cooperation, Embassy of Switzerland in Myanmar from 2016 to 2020, also sees the long-term impact of the project: "SDC has been supporting this collaboration between BFH-HAFL and YAU from the beginning. While development projects have a start and end – we are convinced that such partnerships between universities will last beyond the SDC support."
We'll continue to follow the work of Yezin University and BFH-HAFL students on the projects and share more stories from the field. Follow the Helvetas Myanmar team on Facebook and BFH-HAFL Hugo P. Cecchini Institute on twitter to learn more about the project.
Student voices
Anna Braun (BFH-HAFL BSc in Agriculture Majoring in International Agriculture student) and Soe Khaing (YAU student studying at BFH-HAFL) working together for a GoMP research, Yangon, May 2019. Read Anna's story
No No Aung from Myanmar got her master's degree at BFH-HAFL specialized in Sustainable Production System in 2019. Read her story
Soe Khaing from Myanmar working on the project in the Gulf of Mottama. Read his story
Sara Imbach worked on a project to assess the potential of the mud crab value chain as a sustainable livelihood option for vulnerable coastal inhabitants in Mon State and Bago Region of Myanmar as part of the GoMP partnership. Read her story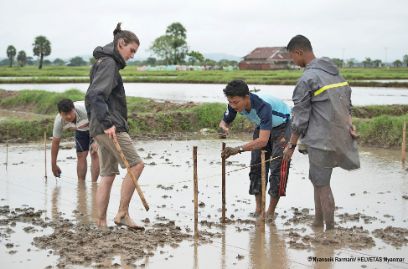 For Benjamin Jungblut "it was intense and fascinating to see the process through which the farmers' and fishers' needs were translated into policies that would respect the national rules and regulations while reflecting the frameworks of implementors and donors." Read his story
Thi Thi Soe shares her thoughts on what made her experience at BFH-HAFL unique. Read her story