We offer innovative research, continuing education courses and consulting services for successful growth.
We provide effective, sustainable and practical solutions for our various stakeholder groups in welfare services for children, youth and families in the following areas: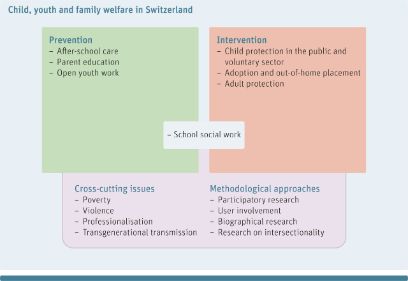 Research and development
Our interdisciplinary team offers a wide spectrum of methodological and subject-matter skills. We share expertise with national and international networks of researchers, experts and stakeholder groups. Our specific focus is on transgenerational themes and actively involving stakeholder groups in projects relating to these themes. This produces viable, sustainable results, contributing to the successful growth of children and young people.
Our practice-oriented research portfolio ranges from tailored contract research to research projects spanning several years. The majority of our clients and cooperation partners work in the following fields:
Stakeholders in welfare services for children, youth and families in domestic and institutional contexts
Cantonal and communal departments in the field of children, youth and families
Child and adult protection agencies
Assessment and mandated services in child and adult protection
Federal offices
Communities, cities and cantons
Employers in business and public administration
Foundations and organisations that fund research
Universities and universities of applied sciences
Consulting services
Our consulting services are informed by practice-oriented research. Thus they are both practical and science-based. In direct discussion with you, we establish the best means of supporting you.
Our offer includes the following areas:
Continuing education
Thanks to our wide range of part-time continuing education programmes on child and adult protection and school social work, you can gain basic knowledge or specific skills and expertise in the various fields of practice.