Going Bananas - Restoring Livelihoods of Conflict Affected Farmers in Cotabato
This project aims to restore the livelihoods of smallholder farmers in the Cotabato region of Philippines by establishing a sustainable farming system facilitated by capacity building and a market value chain based on organic bananas.
Factsheet
Lead school

School of Agricultural, Forest and Food Sciences

Institute

HAFL Institut Hugo P. Cecchini
Agriculture

Research unit

International Agriculture and Rural Development

Funding organisation

Others

Duration (planned)

01.07.2020 - 31.12.2024

Project management

Prof. Dr. Gurbir Singh Bhullar

Head of project

Prof. Dr. Gurbir Singh Bhullar

Project staff

Prof. Dr. Gurbir Singh Bhullar

Partner

Aidenvironment
Netherlands Enterprise Agency (RVO)

Keywords

Rural Livelihoods. Food Security, Poverty Alleviation, Sustainable Farming Systems, Participatory Technology Development, Capacity Building, Intercropping, Agroforestry, Organic Agriculture
Situation
The project region is a post-conflict area with a high level of poverty and food insecurity. Deforestation for unsustainable cultivation of annual (cash) crops has led to substantial erosion, run-off and land degradation. A lot of soil has been lost in the past decade leading to destruction and disappearance of drinking water sources of rural communities. Several decades of conflict has depleted the resources for optimal crop production as well as hindered the development of farming knowhow. As a result, the region has one of the highest incidence of poverty and food insecurity in Philippines. This project aims at reforesting the slopes with Banana grown together with other native plants and by implementing water harvesting and erosion control measures. The project applies participatory approaches for capacity building of local farmers as well as of the agricultural field staff.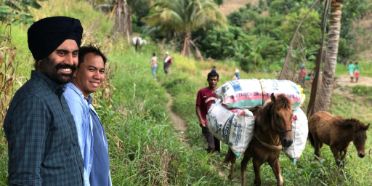 This project contributes to the following SDGs