Do you want to be part of the future agriculture and food-production industry? Our programme provides you with foundational knowledge and the professional tools you will need in a range of agricultural subjects.
This degree programme
is the only full-time agricultural course offered at university level in Switzerland.
allows you to specialise in areas as diverse and unique as international Agriculture or Equine Science.
is modular and allows you to customise your studies, whether full-time or part-time.
allows you to develop extra skills by taking one of four minors.
gives you the chance to acquire deeper understanding of organic farming with the additional qualification in Organic Agriculture and Resource Conservation.
provides excellent job opportunities.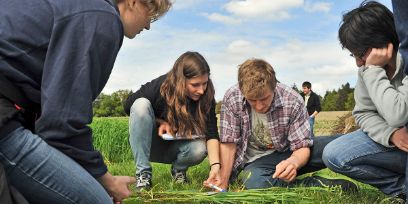 Factsheet
Title/Degree

Bachelor of Science (BSc)

Specialisations

Agricultural Economics, International Agriculture, Animal Science, Equine Science, Plant Science and Ecology

Mode of study

Full-time, part-time

Start date

Academic year 23/24: 11 september 2023

Application deadline

Academic year 23/24: 30th April 2023
ECTS credits

180 ECTS credits

Teaching language

German and French in mixed-language classes. International Agriculture: English

Location

Zollikofen

School

School of Agricultural, Forest and Food Sciences HAFL
Start your bachelor's degree in autumn 2023 and apply now. Do you still have questions? Get answers at the next information event.
This degree programme is offered in German / French. For detailed information, go to the German / French page.