Experts for sustainable development at BFH-AHB
10.02.2023 Two sustainability experts, Aude Chabrelie and Urs-Thomas Gerber, have been elected as professors. Both will teach and research in the field of sustainable construction at BFH-AHB, albeit with different focuses.
Urs-Thomas Gerber took up his position as Professor of Sustainable Construction with a focus on circular construction on 1 February 2023.
As a lecturer, Urs-Thomas Gerber will equip students with future-oriented skills in the field of sustainable and circular construction in the bachelor's degree programmes in architecture, civil engineering and wood technology. With his expertise in the topics of sustainability and the circular economy combined with experience in research projects, he will also support research and development at BFH-AHB. As a timber engineer with a master's degree in architecture and environment and an EMBA in leadership and management, he has many years of proven experience in business, most recently as managing director of Sites and Buildings at CSD INGENIEURE AG. In addition, he has taught the subjects of environment and ecology in the Bachelor of Science in Wood Technology since 2009. He would like to place a special emphasis on closely meshing all aspects of his teaching and research activities with practical application, to "keep in step with the rapid developments in sustainability", he says.
Aude Chabrelie will take up her post as Professor of Sustainable Construction with a focus on sustainability analysis on 1 June 2023.
As an expert in building materials and sustainability analysis, Aude Chabrelie joins the team at the Institute for Materials and Wood Technology (IWH), where she will work on furthering research activities in the field of life-cycle assessment, environmental management and the development of sustainable materials. She holds a PhD in materials science and will be lecturing in the Wood Division at bachelor's, master's and Higher Technical School level, as well as in other BFH degree programmes, from the autumn semester of 2023. One aspect of her work will be to help establish the new specialisation "Innovation in Bio-based Materials" of the Master of Science in Wood Technology. Aude Chabrelie's career background is one of proven technical expertise and leadership in technology, environment and innovation, having worked for the Vigier Group and Saint-Gobain for several years. With her project and management experience and her specialist expertise in building materials and life-cycle assessment, Aude Chabrelie will be a great asset to research and teaching at BFH and will reinforce the strategic thematic field of sustainability.
Urs-Thomas Gerber and Aude Chabrelie are both keen to contribute their knowledge and experience to BFH-AHB, to promote a sustainable mindset and work ethic among students and break new ground with research and practice partners. With this, they will make a significant contribution to the development of the School. We are very much looking forward to working with them.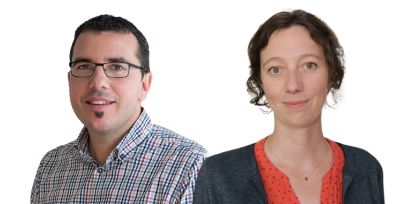 Find out more