Bridges made of wood to contribute to decarbonisation
15.06.2021 Many bridges over roads and motorways in Switzerland will soon need rehabilitation. Wood is an obvious choice of building material with respect to climate goals. It is a field that is the focus of various research activities at BFH. One project involves the construction of long-span bridges using TS3 technology, which enables the face-bonding of timber components into large wooden surfaces.
Infrastructure construction is one of the biggest sources of carbon emissions in Switzerland. This is due particularly to the use of steel and concrete, as large amounts of CO2 are released during the production of these building materials. By foregoing steel and concrete, the construction industry is making a significant contribution to achieving climate targets. Wood is already used frequently and very successfully in building construction, but civil engineering and infrastructure construction are still lagging far behind.
With a motion by Jakob Stark, member of the Council of States and president of Lignum, the Swiss timber industry, the Federal Council is instructed to research the options for decarbonising infrastructure construction in collaboration with the universities and the relevant standards commissions.
The use of wood for bridges and other infrastructure structures can make an important contribution to the decarbonisation of the construction industry. Although the first infrastructure buildings are now being built from wood, reinforced concrete is still dominant in this area of application. There is a need for research, especially when it comes to the construction of road bridges.
In a research project for the Federal Roads Office FEDRO, under the direction of Prof. Andreas Müller, BFH is working with business partners including Timbatec to develop waterproofing options and bituminous surfacing for bridges with wooden roadway slabs. With the TS3 technology, which enables large wooden surfaces to be created using pouring-to-solid on the face side of timber components, long-span bridges could be constructed from timber. In keeping with the principles of the circular economy, the cross-laminated timber slabs from the long-term test rig that has been at BFH in Biel since 2018 are being reused for an initial exhibition object. The slabs from the test rig are being repurposed to create two box-girder elements of a two-lane road bridge on a 1:1 scale. The elements show parts of a road bridge crosswise to the axis, such as could span a four-lane motorway. The prestressing of the box-girder webs enables such large spans to be achieved at the same time as bearing heavy loads from the road traffic above. The bridge will be inaugurated on the occasion of the 4th International Conference on Timber Bridges in spring 2022.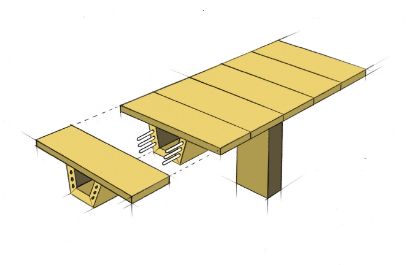 Other exciting BFH projects that contribute to decarbonisation:
Find out more