A first in Switzerland: BFH conducts fire tests on wall-mounted green facades
12.05.2023 There are still many unanswered questions around how greened facades behave in the event of a fire. BFH researchers want to put an end to this and have conducted fire tests on wall-mounted green facades for the first time in Switzerland as part of a multi-year research project. The University is thus making a key contribution to current international research in this field.
Greened facades can help enhance urban microclimates, support heat regulation in buildings and promote biodiversity. But there is still much to learn about how they behave in the event of a fire. To address this, researchers from the Institute for Timber Construction, Structures and Architecture (IHTA) at Bern University of Applied Sciences (BFH) conducted two fire tests on greened facades. The test set-up consisted of a multi-storey external wall element with two full storeys and two partial storeys. The researchers installed an open-fronted fire test chamber in the lower section of the wall element. This allowed them to simulate flames escaping from a window after a flashover, when a small fire suddenly develops into a large one. The tests were conducted at BFH-TI's Dynamic Test Center site in Vauffelin, and complied as closely as possible with the test specifications for external wall cladding systems set by the Association of Cantonal Fire Insurers (VKF) in 2016. The results make it possible to evaluate the fire behaviour of greened facades on medium-rise buildings and to optimise the construction of external wall cladding systems for approval. The tests were part of a multi-year research project.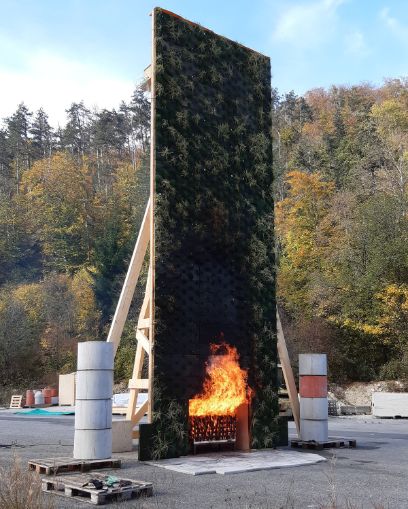 Find out more
Category: Research