Development of sustainable hotel cabins for different climate zones
The project aims to develop modular hotel cabins with a minimized ecological footprint that are designed for different climate zones. A circular eco-design approach is used to ensure the implementation of the most sustainable options.
Situation
Modular building is a rising trend. However, there is no consistent integration of the light footprint modular construction industry in hospitality. In tourism developments, modular buildings are perceived as temporary cheap solutions and there has never been the effort to develop them into a high-end product with the goal to preserve pristine locations. Furthermore, there is no company providing the prefab building services on a global scale: the highly diverse climatic conditions and availability of materials require an in-depth study and research to develop a versatile technological toolkit able to withstand various conditions.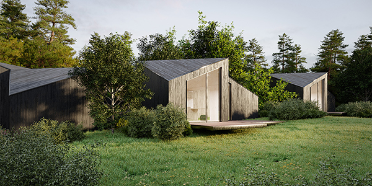 Course of action
The goal of the project is to create a typology of hotel cabins that can be easily assembled and disassembled. Negative impacts on the location should be close to zero. In order to reach this goal, a transdisciplinary research approach is chosen that allows to simultaneously address research questions in different business sectors and scientific disciplines, namely in the hospitality sector, in architecture, in environmental science, in timber construction and in material science. The project is managed by the Composites and Furniture Development competence area at the IWH. The innovation includes the development of a hotel cabin typology (modular approach) applicable in different climate zones, a concept allowing a close to zero footprint after removal of the hotel cabins, and the consistent application of sustainability criteria in planning, construction and operation of the cabins. Sustainability is central to the development in this project. To guarantee this, an environmental and cost analysis accompanying the development is carried out according to the eco-design method. The technical development includes the development of a design principle for efficient assembly and disassembly of hotel cabins, the set-up of a BIM model as basis for the LCA, and the development of wall and roof assemblies based on the specific requirements of the selected climate zones. The new concept shall be demonstrated by building a prototype of the modular cabin in the tropical climate region.
This project contributes to the following SDGs