The countdown has begun: one year to go until the Cybathlon 2024
25.10.2023 In exactly one year's time, three teams from Bern University of Applied Sciences (BFH) will be pitting their wits against teams of developers from all over the world at the Cybathlon 2024. The aim of the competition is to develop assistive technologies suitable for everyday use with and for people with disabilities.
When the third Cybathlon kicks off on 25 October 2024, BFH will be represented by a team in each of three disciplines. At the Cybathlon, people with physical disabilities compete as they perform tasks related to everyday life supported by state-of-the-art assistive technology systems. The BFH teams' preparations are already in full swing.
Research project in parallel
Team BFH-FAIR had its first public appearance in the 'Assistance Robot Race' category in February this year at the Cybathlon Challenges – a very positive experience for team leader Gabriel Gruener: "Our system was already working well and I found the exchanges with the other teams on site very valuable." Since then, the team has been hard at work refining its system, and is currently focusing on the gripper at the end of the robot arm in particular. At the same time, Gabriel Gruener and his team are collaborating with scientists from the School of Health Professions on the research project 'Development of a Robotic Arm with and for People with Tetraplegia', which is funded by the Swiss Paraplegic Foundation.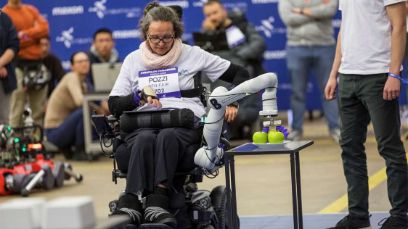 Refining the gripper system
In the 2024 Cybathlon, Team BFH-Hand-X will be participating in the discipline 'Arm Prosthesis Race' for the second time, so the team under Gerhard Kuert hasn't had to start developing their equipment from scratch. As the shaft of the prosthesis already exists, the developers can now focus their efforts on adapting the gripper system precisely to the requirements of the competition tasks. The team has also set up the first obstacles for training in the lab. Students are currently working on refining the prosthesis in an elective course of the Mechatronics and Systems Engineering degree programme as well as in the scope of bachelor's theses.
Muscle training required
For Team BFH-CybaTrike, their team leader Kenneth Hunt and rider Julien Jouffroy, it is the third time at the Cybathlon. In the discipline 'Functional Electrical Stimulation Bike Race', Team BFH-CybaTrike took third place in 2016 and fourth in 2020. The technology is ready, as a test run at the end of September showed. How successful the team will be in 2024 now depends largely on the pilot. "Julien has to train his paralysed leg muscles specifically and practise dosing the electrical stimulation of his muscles correctly," Kenneth Hunt explains.
Find out more