The Euresearch Office BFH personally guides you through European research and innovation programmes. We find the right funding opportunities for Swiss researchers and companies in the EU Framework Programme Horizon Europe and other initiatives.
Euresearch services
Our three key services are:
Inform – we help you find the information on funding schemes and calls, run events and keep you up-to-date
Advise – we help you find a call and advise you on how to proceed with your application and even support you after the application process
Connect – we help to connect you with collaborative partners for a consortium through networking events and partner search tools
Are you a researcher or small business looking for the right funding and partner opportunities for your project? Contact us to discuss your project proposals and we'll help you realise its potential. Our services are free of charge.
Horizon Europe in a nutshell
Horizon Europe (2021-2027) is the 9th European Union Framework Programme for Research and Innovation. With 95.5 billion euros in funding, it is the biggest and most ambitious programme of its kind ever. Its goal is to keep the EU at the forefront of global research and innovation.
There are various platforms and pillars that make up the structure of Horizon Europe. To simplify, BFH researchers and small businesses will likely be interested in the programmes in pillar II – Global Challenges and European Industrial Competitiveness, which covers:
BFH key figures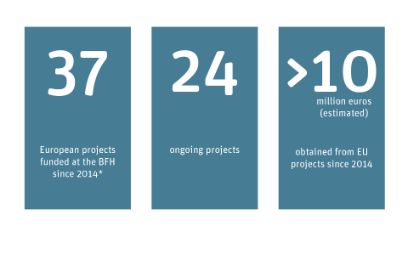 Contact
The Euresearch Office team
Opening hours:
Mon, Tues, Thurs and Fri: 8am-5pm
Wednesday: 8am-1pm